One of the best poets alive today — or in my opinion, the best poet alive today — is coming to St. Paul this month.
I can hardly contain myself.
Gary Snyder, hero to my heroes, profound poet, wanderer of the wild, mounter of mountains, meditator, dharma bum, will participate in Minnesota Public Radio's Talking Volumes series. Which means he'll sit on stage at the Fitzgerald Theater (home to A Prairie Home Companion) and talk about the wild, ecology and, of course, poetry, with Kerri Miller.
I got our tickets this morning, so I'm now okay advertising this sure-to-be wonderful evening. We were blessed with a reading by Snyder at City Lights Books on our honeymoon to San Francisco, and that was an experience of unparalleled joy… Yet, that was just a reading with some questions and answers (which, standing in another room with 100+ sweaty bodies packed in between me and him, I could only sometimes hear). This event promises to be a real chance to hear his thoughts on all the things that fascinate me about him.
Snyder is a frequent character in my ramblings on this blog.
Heck, here's me exchanging a couple pleasantries with the good man at City Lights.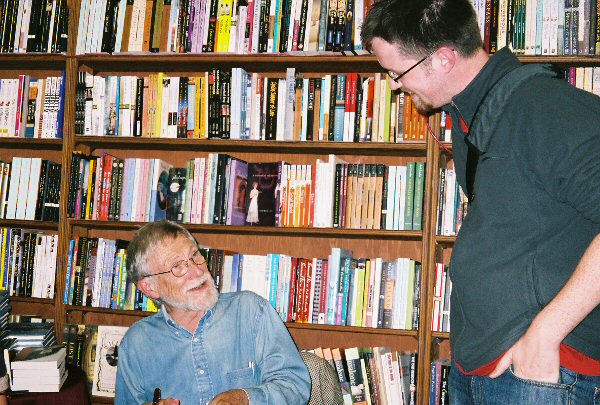 Anyway, just had to ramble on about this a little bit. Cheers.