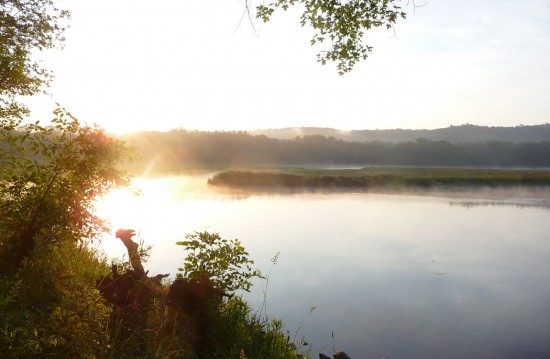 I awoke this morning at dawn because our dog, Lola, was standing over us in the tent, acting agitated. No matter how tired she should be from the previous day's adventures, and no matter the fact that she routinely sleeps in until 9 a.m. on the weekends at home, it starts to get light out when we're camping and she has to get out of the tent. But it was a good prompt to pull on some clothes and climb out of the tent and take in a few moments of sunrise in the valley.
There was fog blowing around over the water and the grasses across from us and the sun had just come over the bluff on the Wisconsin side. The dominant sound in my memory of the moment is of the rushing waters of the spring-fed creek tumbling over sand and rock before merging with the river at our feet. But there is also a chorus of songbirds, their singing coming from every direction. Warblers in the trees around us, red-winged blackbirds across the channel, untold others singing in every key.
Birdsong, water rush
For quiet eternity
Never leave this world
Some hours later, after sleeping some more, after oatmeal and strong coffee, after fishing from shore and packing up bags and canoes, we pushed off into the river again, our backs to the site. The paddle downstream to the landing was substantially more relaxed than the paddle up to the site had been. We paddled steadily but easily, and pulled off at a beach shaded by big cottonwoods for a last swim and admiration of the white clouds in the blue sky, the quiet river carrying canoes, the minnows nibbling our toes in the sandy shallows.
Before we had left the campsite, I said goodbye to the site like Jack Kerouac would, with a bow and a "bah" as I walked down the trail. Our tents, chairs, coolers, and other random camping gear was all gone then, the site just a clearing in a woods of tall white pines, a fire ring and a pile of wood. The creek kept rushing by and the wind kept blowing off the river and none of that would change when we were gone, when I was back at work or home or barbecues or anywhere else. No, it would remain.
Canoe beached on the sand
Fireflies in damp night woods
Swim long in this river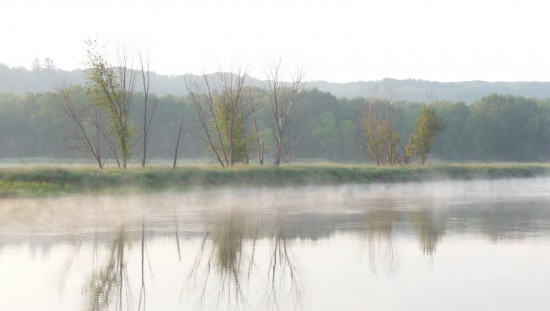 (Be sure to click the photos to see nice, big, beautiful versions.)