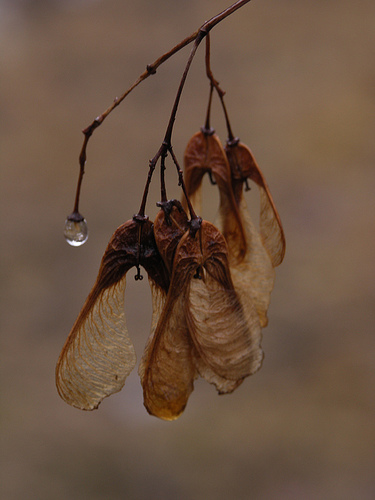 early spring rain f, by withrow
The world I live in has lately been gray and wet and dirty and dim. Snow has mixed with rain, the wind has blown it in my face, and the sun has remained hidden in the flat, colorless sky. When it has rained, the water has pooled up on top of mud and sod, dirty puddles that are not the celebrated signs of spring.
But in the midst of this weary weather, I know that all this does herald the arrival of that fertile season. This precipitation is seeping into the earth, and will fuel the life which will soon spring from it. These cold rain showers will give way to the green smoke of the first buds on the cottonwoods, the trilliums on the forest floor. And then that will give way to the bright green of fresh leaves and then, with hardly enough time to notice, the world will indeed erupt into life.
With my head hunkered down now as I make my way through the gray outdoors, I can see in my mind's eye the lush woods of summer, a mass of green. That which has been so long buried under snow that it's become like the fading memory of a dream is now perceptible again. Visions of liquid–even warm–water in the lakes and rivers begin to sharpen. And everywhere there is green.