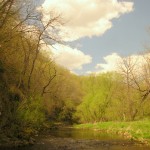 The waters of the creek were warm and slippery. You had to walk carefully on the slimy rocks but after a day in the stream you were a sure-footed water child.
I wasn't much for slimy creatures like the leeches which were the creek's one significant drawback but yet I didn't let them get in the way. I would find one on me, stifle a gag, yank it off, and go on with the chaos of youth.
There wasn't anything to the creek beyond the corner where we swam. You came down to it at a grassy spot where some parents would be set up in aluminum and nylon lawn chairs and a cooler. With little ceremony, a t-shirt and shoes dropped careless on the bank,  it was into the water.
Fifty feet upstream there was a natural waterslide where the activity centered. Big slanted slabs of limestone with a couple inches of water running over it. I swear I went down that rock more times than there were pebbles on the creekbed.
The creek turned above the slide and then straightened out. That was the upper reaches of the known waterway. Seeking adventure one time, my cousin and I hiked upstream another 30 yards, fighting our way up the bank, swarmed by mosquitoes in the bushes, dragging a little two-man rubber raft that was my introduction to watercraft. Bit to shit, we pushed through the brambles finally and launched the raft.
Our arrival at the slide, and then our descent of it, was some small victory, but we did not see the point in repeating the journey.
The days in the creek were limitless and fleeting. The warm afternoon seemed infinite, and gladly so, but with little fanfare I'd find myself wrinkled and chilled and only then notice the sun dipping behind the tall trees with their thick mid-summer foliage.
We are born of water
dissolve someday like the clouds
The sun will outlast you and me
(With apologies to Cloud Cult)