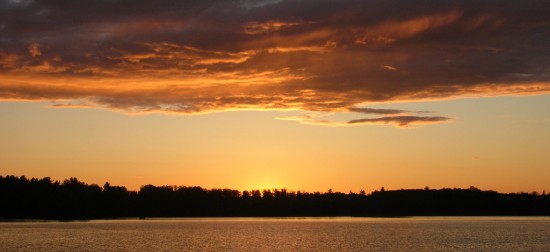 I wonder what that ancient Japanese poet would say if he tried walking from my home to the deep north today.
There may be no child crying on rainy river banks, but there is a field of rotting tires and a steel post driven needlessly into ancient bedrock like a harpoon in the back of a petrified whale frozen in a moment of vulnerability.
You no longer step out your front door and walk to the wilds of the north. Today this trip is by car. The hum of the tires and the roar of the wind at 70 miles per hour obliterates unknowable sounds, of frogs in shallow ponds and the Earth exhaling through pines.
A hawk sits watching
Nervous mice in grassy ditch
Nest in winter's sand
I went north last June–the weekend before the summer solstice–with three friends for a fishing trip. We traveled in a pickup truck as big as they come. Like many such trips, the three-hour drive passed by quickly in conversation, though I periodically escaped the talk inside the cab to notice a familiar landmark go by: an airy woods of planted red pine, a tidy pond with a granite outcrop and a beaver lodge, a particular small dark river that passed under the freeway.
Our destination was a lake outside the city of Duluth. The lake was undeveloped and relatively quiet and the fishing was challenging but the camping was good. When we left after a few days and drove away, my eyes were glued to the window. The forest we drove through reached right out and grabbed my imagination and made my spirit ache. This had happened before but this time it had a particularly searing effect on me.
The woods that the road went through was typical boreal forest of scrubby black spruce, jack pine, tamarack. It always appears to me endlessly wild, inhospitable to man, lonely for all creatures, and both ancient and eternal. This was the same type of forest I had stared at from the boat all weekend and now, on a sunny, cool summer afternoon, I did not want to leave it, though I relished the depth of the feeling in my heart.
Bird flits from tree top
Silhouetted against sky
I'll come back again