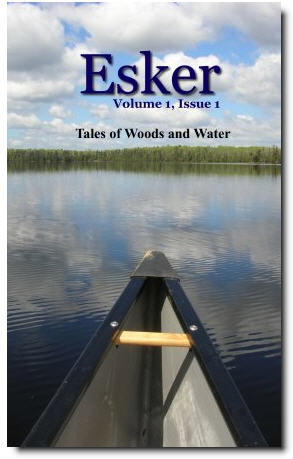 I am very, very, very, very, very happy to announce the publication of Esker: Tales of Woods and Water, a chapbook featuring my writings, as well as the works of several people I respect and enjoy.
Almost all of the writing from me has appeared on The Dharma Blog over the past three years, though it is all freshly edited and revised. But there is also a brand new piece (written just for Esker) called "Return to Pebble Creek" and a previously-unpublished poem titled "Walk With Me." I think anyone who reads this blog will appreciate both pieces, as well as enjoy having my "greatest hits" in printed form.
Esker also features:
Lené Gary, of Vermont, who was one of the first writers I connected with via blogging. Her poem, "This June Without You" just won first prize in the Poetry Society of New Hampshire's annual contest.
Sam Haraldson, of Duluth, who was recently featured on this blog in my interview about his experience thru-hiking the Pacific Northwest Trail. Sam has contributed a short piece titled "Why I Walk," which I know was a question at least one person said they were curious about after reading the interview.
Ed Haydin, of the Milwaukee area. Ed has been an unfailing supporter of my efforts on this blog and otherwise and has provided a sketch to accompany a story of mine about fishing the Trico hatch.
And my own lovely wife, Katie Seitz ("Rosie" to my readers), shared her poem, "Photos in Your Wallet." It's a beautiful piece.
Thank you to all of those folks for sharing their work and for their support.
The chapbook is pretty small, designed to fit into your back pocket or your backpack. But, at 80 pages, it has enough material to while away at least a few of these dark winter hours.
You can buy Esker for $12 by clicking here. I'm pretty sure you can still get copies in time for Christmas, but you better click quickly. My biggest priority with this book is to get it into people's hands who might enjoy it, so I'd love it you bought a copy or two for other folks. If you want to talk about ordering multiple copies, I'd be happy to hook you up with a discount, just drop me a line.
I would be very grateful to anyone who could mention Esker on their own blog or otherwise help me spread the word.
This has been a project of considerable effort and I'd just like to say again how happy I am to finally be able to share it with everyone. Cheers!