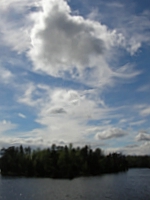 Every trip into the canoe country leaves me with lasting memories of the skies. Venturing into the watery lands on the Minnesota-Ontario border has left me with countless vivid images of clouds stretching across broad expanses. Brilliant or hazy blues, bold or stained whites, aquariums of every shape of cloud or vacant voids that leave you looking up into whatever is beyond. The skies are large and alive.
But I've found myself asking why is that? What exactly is it about those skies that stays with the traveler? I think the answer is tangled up in much of what is so special about the place.
I remember particularly crossing east across a large bay on Lake Three on our latest trip. Katie observed that we could see three distinct weather systems in the sky. As we paddled on it felt like we were sneaking underneath a giant military weather convoy marching east, off to bigger battles. The tall white clouds to the south were the infantry, bristling with potential; the big, smooth, gray clouds above us were convoys of heavy weaponry; the silver streaks across the northern sky were the air support. Thankfully, we were so insignificant in our little craft that they saved their ammunition and sped past to whatever lay ahead (when you're traveling 2 mph in a canoe, clouds traveling at 20-30 mph do indeed speed past).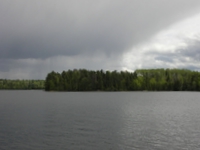 A few years ago on Gillis Lake, off the Gunflint Trail, we got camp set up early on the north shore and sat on a huge, flat red sandstone rock (a freak in that granite land of the Canadian Shield) protruding out into the lake. The weather that day had so far been clear and uneventful. But as we sat there, we watched a storm come in from the west. We knew that it was coming at least an hour before we heard the thunder or felt the rain. Clouds appeared on the horizon and then filled the sky, followed by wave after wave of bigger, mightier clouds. That night the thunder echoed around the lake and the rain beat on the tent until morning.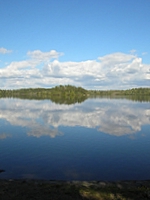 On our first trip to the canoe country, on our first night, we were lost. Sort of. We'd been lost. We thought we knew where we were now. In any case, we sat on a rock overlooking the lake after dinner and watched as thunderstorms passed by to the north and south of us. They were dark and heavy and dangerous. Our little piece of the wilderness remained untouched by wind, rain or thunder. It's a good thing too, because a few months later, when we were much closer to our car, we discovered that the tent we'd been using was not the slightest bit waterproof.
In what is common to those memories lies a big part of the answer to why those skies are so important to the experience: the slowness of travel and the tendency to stay put. It seems very obvious — maybe too obvious to fully appreciate. When you travel by canoe you travel much slower than you do anywhere else in the world. With a good tailwind, you're probably going as fast as walking. When you stop traveling, you pretty much stay put. In the city, stillness is rare, if it exists at all. And only stillness lets you see the movement.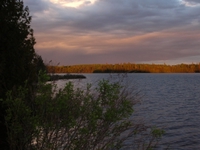 It was a revelation for me during the nine days we just spent in the Boundary Waters that everything is indeed moving up there. Animals mate, eat, die, are born. Plants bloom, flower, seed, grow, die. And the sky is always changing. Clouds come and go, the wind changes direction, storms blow in and blow out. It's easy to miss all this movement because it requires more than a glance to perceive and a glance is all that city-dwellers are accustomed to giving anything.
The dependence on that movement makes it interesting and memorable. You not only watch the skies because you have the time to see them changing, but because those changes have a real impact. Do we have time to eat a liesurely dinner or should we wolf down a dehydrated meal and be ready to hide out in the tent? Do we take the next open campsite we see or do we keep going? Does it seem like these overcast skies are going to stick around all day or should I put on sunscreen in the morning?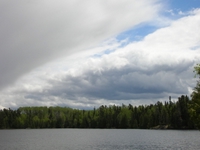 When you look at the sky in the canoe country, you see the sky. The only other thing in view is water, rock, and tree. When you look at the sky in the city, you also see apartment buildings, streets, yards, alleys, houses, garages, cars, people. You hear music, the freeway a mile away, voices. Because of this, you don't look at the sky for long. You don't see that at the horizon there are some ominous rain clouds or that as the sun sets in the west, the clouds to the east are clearing out.
Here is what I think you should do: go find a spot with a good view of the sky. A rock at the edge of a lake is a good place. Sit down and stay there for at least a few hours. Read a book or something, but look up frequently. I guarantee you, something will happen. Up there. Inside.