Now, available only at the official seller of 'dharma blog' merchandise – 'the everyday store' – the unauthorized "i don't like cool, i like beautiful" bumper sticker.
Hollis' candid critique of another band's song — after her dad described it as "cool" — provided the slogan on Alan's T-shirt in a music-video shoot a few days earlier.

"I don't like cool, I like beautiful," it read.
Hey, it fits on a bumper sticker and it's as good as "Someday this will all make sense"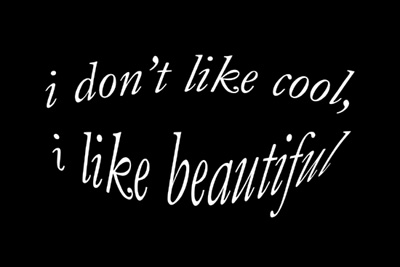 C'mon, it can be yours for just $3.49.
Limited time offer, of course.
More "merch," as they say, like t-shirts and coffee cups and condoms, are forthcoming.
update: t-shirts and hats and… no condoms, sorry, are all now available at the store. isn't this fun?